A sustainable aviation fuels venture lands in Bend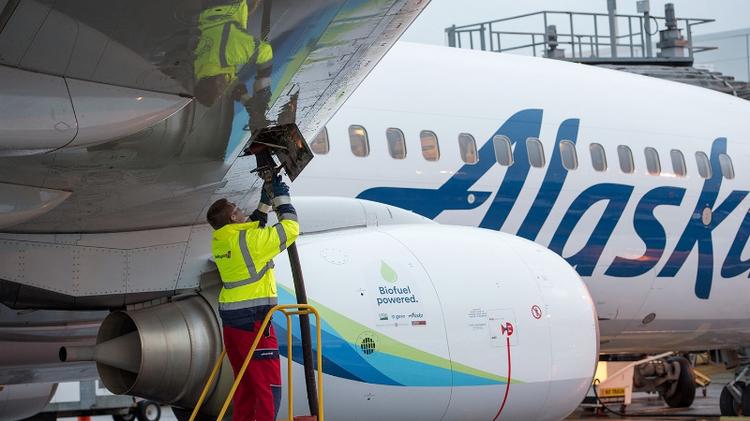 SkyNRG, a Dutch biofuels company, has established a Bend outpost as it aims to deliver sustainable aviation fuels — SAFs as they're known in the industry — to West Coast airports.
It could lead to a major demonstration project in Oregon, although SkyNRG Americas says it's also looking beyond the region.
The Bend operation is led by John Plaza, a former commercial pilot and a veteran in the quest for green fuels. In 2008, a Seattle company he founded, Imperium Renewables, supplied Virgin Atlantic in the first commercial aviation flight using biofuel.
There's been slow progress since then in deploying SAFs at a meaningful scale. A 2020 peer-reviewed study said aviation is responsible for 3.5% of human-caused climate drivers.
Plaza said technology, policy and industry motivation are now coming together in something of an SAF moment. The West Coast is especially attractive for production and deployment because all three states now have low-carbon fuel standards that reward clean fuels, boosting their economic viability.
"We've just come into this sweet spot over the last two years," he said. "So now the industry is in the phase of investment and deployment of technologies to address the market demand that is ready."
He described SkyNRG Americas as "really a joint venture between myself and SkyNRG."
They quietly started the effort in March 2020, and this year announced partnerships with Alaska Airlines and Boeing to help speed development of SkyNRG's first U.S. production facility.
Finding the right spot for that project is a big focus of Plaza's attention. What's he looking for? Just the right landfill partnership.
There are a number of ways to make biofuels, employing varying feedstocks. Alaska Airlines in the past decade used small amounts of biofuels made from forest residuals and non-edible field corn. But research seems to be pointing to waste streams delivering more greenhouse-gas reduction benefits with fewer land-use and other ecosystem side-effects. In 2020, Alaska signed a deal with Finland-based Neste for biofuel made from waste such as animal fat and greases, and used cooking oil.
SkyNRG, which says it aims for a minimum of 80% carbon-dioxide emissions reduction compared to conventional jet fuel, sees waste as the answer, and is zeroing in on the potent greenhouse gases produced at landfills.
"Waste streams, such as municipal solid waste or landfill gas, really allow us to address the concerns that have been in place with previous generations of biofuel," Plaza said. "So we're really focused on landfills."
Much of the metro region's municipal solid waste ends up in the Columbia Ridge Landfill in Arlington, 140 miles east of Portland. And Plaza said north-central Oregon landfills "offer interesting Oregon synergies." But he added that SkyNRG is casting a wide net.
"There are landfills all over the country, and 400 different landfills that we think are attractive and offer a potential path to creating sustainable aviation fuel," he said. "Our goal is to find a landfill that wants to partner with us to demonstrate this at a commercial scale and show the rest of the country what this kind of innovative solution looks like."
Landfill gas can also be refined into renewable natural gas, making it attractive to natural gas distributors and users trying to decarbonize. Plaza argued that using the gas for SAFs is a more sensible scenario.
"We take raw biogas and don't have to treat it like they do to push it into the pipeline system," he said. "And we think aviation is a higher and better use. The reality is, you could displace every stove and heater in the state of Oregon with electricity. But we're 30 to 50 years away from electric airplanes."
SkyNRG hopes to have a landfill partner by the end of the year. Longer-term, Plaza envisions five to 10 U.S. refineries.